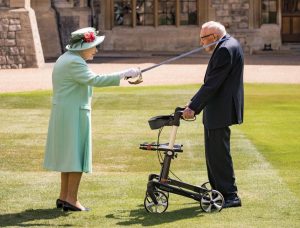 Captain Sir Tom Moore has signed a seven-figure film deal to tell the story of his life.
And, not a lot of people know this, he wants to be played by Michael Caine.
Captain Tom won the heart of the nation while raising more than £38 million for the NHS during lockdown.
He walked 100 lengths of his garden to mark his 100th birthday.
His original target was £1000.
The film is to be directed by Nick Moorcroft.
His earlier work includes Fisherman's Friends and Finding Your Feet.
The producers are Fred Films and Powder Keg Pictures.
Captain Tom said:
"I don't know of any 100-year-old actors, but I'm sure Michael Caine or Anthony Hopkins could do a wonderful job if they were prepared to 'age up'."
Captain Tom will also be making an appearance in the biopic.
Nick Moorcroft said: "This is a story about the power of the human spirit and Captain Sir Tom personifies that.
"We are honoured to be telling this unique and inspiring story and are excited about audiences getting to know the man behind the headlines."
Producer James Spring said:
"At a time of fear and uncertainty 161 countries around the world embraced the beacon of hope that Captain Sir Tom provided.
"We are privileged that Tom and his family have entrusted us to tell their story."
Captain Tom's granddaughter Hannah added:
"We received so many offers but what it boiled down to was trust.
"The family are big fans of the films James, Meg and Nick have written and produced and we hope that our story connects with audiences in the same way their previous films have done."
After his amazing money raising feat Captain Tom was knighted by the Queen at a special ceremony at Windsor Castle.
He even had a number one chart hit with Michael Ball singing "You'll Never Walk Alone".
Captain Tom recently told The Mirror:
"I have always been a person who is optimistic that things will get better.
"At the moment, we are going through a very difficult time, but it will get better.
"Throughout my life, I have been through hard times.
"Things have got better.
"Don't be down in the dumps.
"We need more hope, people looking forward to things.
"There are so many people who, I think, are looking the wrong way.
"It is time to look forward to when things will get better, and they will.
"Never doubt it."