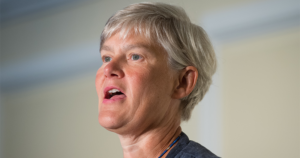 Labour's education secretary Kate Green has called the Covid-19 pandemic a "good crisis" to politically exploit.
Ms Green said Labour should not "let a good crisis go to waste".
She encouraged activists to use the ongoing problems to "bash" the Conservatives.
Her comments came during the party's annual conference – being held online
Speaking at a Labour Connected event, she said:
"I think there's obviously a real immediate pressure to address these funding needs for the crisis.
"But I think we should use the opportunity, don't let a good crisis go to waste.
"We can really see now what happens when you under-resource schools, when you under-resource families and communities.
"And I think that particularly for those of us in Labour, let's be talking now about what this has really exposed, about the way in which we've undervalued our whole education system."
Shadow Foreign Secretary Lisa Nandy later apologised for the comments.
She said: "I know that Kate is really upset about the way that came across.
"She was making the point that we've got to now make sure this COVID crisis doesn't worsen that divide and doesn't write some children off."
"It was absolutely the wrong way to express that and Kate knows that.
"I'm sure she will apologise if she hasn't already."