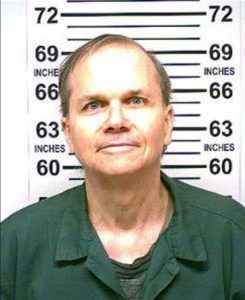 John Lennon's killer has said sorry to Yoko Ono for shooting her husband.
Mark Chapman, now 65, shot the former Beatle four times in 1980.
He said he deserved the death penalty for the murder.
His apology came to light after a transcript was released of a recent parole revue.
Chapman was denied for the 11th time the chance to be set free.
He told the hearing:
"I knew it was wrong and I did it for glory.
"One word, just glory.
"That's it.
"It was that he was famous, extremely famous.
"That's why he was at the top of the list.
"I deserve the death penalty.
"I think that says it all.
"I'm sorry for the pain that I caused to her [Yoko]."
Chapman, who is serving 20 years to life, also said he'd "found God" while in prison.
He told the hearing:
"If released, I'd want to continue to tell people about the Lord."