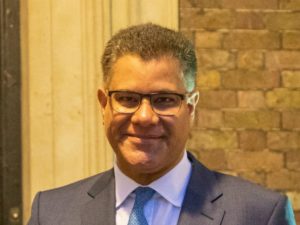 Alok Sharma
For the first time, women make up a third of board members in Britain top 350 firms.
Their numbers have risen by 3.8% in the last year.
However, 19 of the FTSE 250 companies have just one female on the board.
And, there is still one all-male board – but that number has fallen from 152 in nine years.
Business Secretary Alok Sharma said:
"While I am pleased that the FTSE 350 as a whole has finally hit this historic landmark, more than 100 of the UK's top companies have failed to meet the target.
"Research shows that diverse leadership teams are more innovative and make better decisions.
"As the UK economy continues to recover from coronavirus, increasing representation of women on boards represents a golden opportunity not only to rebuild, but build back better."