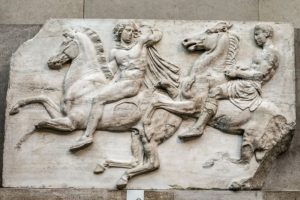 Part of the Elgin Marbles
Britain has been urged to return the Elgin Marbles to Greece as soon as possible.
Eighteen members of the US House of Representatives have written to the Prime Minister to "negotiate in earnest" to end the dispute.
Both Democrats and Republicans signed the letter to Boris Johnson.
It read:
"The Marbles have been the source of controversy among western allies for many decades.
"Greece has long wanted these Parthenon Marbles back.
"We write to you as members of the congressional caucus on Hellenic Issues to urge your government to negotiate with the Greek government in earnest on the return of the Parthenon Marbles to Greece."
The American politicians would like them returning next year – the 200th anniversary of "modern" Greece.
They also hope that as a Classics scholar at the University of Oxford, Mr Johnson would appreciate the importance of returning the frieze.
The letter added:
"We remain appreciative of your efforts and good will in support of the historic special relationship between the United Kingdom and the United States, and look forward to strengthening that relationship through the accomplishment of matters such as this."
The 5th Century Marbles were brought to Britain by Thomas Bruce, the 7th Earl of Elgin.
They were taken from the ruined Parhenon in Athens between 1801 and 1805.
At that time Greece was under the Ottoman Empire.
Parliament bought them in 1816 and presented to the British Museum.
The British Museum says that Lord Elgin acted with the permission of the Ottoman authorities.
However, Greece argued that the Marbles were illegally taken during Turkish occupation.
The Daily Telegraphs reports a source close to the US politicians who said:
"These members of Congress are saying thank you to Britain for looking after them.
"They know that Boris Johnson understands Greek history better than anyone, and both Republicans and Democrats are calling on the Prime Minister to do the right thing.
"By returning the Elgin Marbles, the United States sees an opportunity for Boris Johnson to go down in history as a statesman who respected both Britain's past and projected a new confident post Brexit Britain to the world."
A Downing Street spokesman said:
"The Parthenon Sculptures are the legal property of the British Museum.
"Decisions relating to their care are taken by the Trustees of the British Museum.
"Their future will not form part of any trade negotiations."