Fears "Rule, Britannia" and "Land of Hope and Glory" to be dropped from Proms after Black Lives Matter protests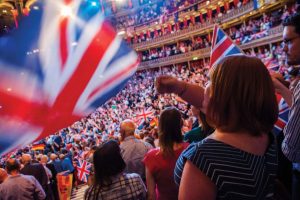 British anthems "Rule, Britannia" and "Land of Hope and Glory" could be dropped from the BBC Proms.
The decision would be taken in the light of the Black Lives Matter campaign.
The BBC and Prom conductor are concerned the two songs have links to colonialism and slavery.
Both songs are sung with a rousing chorus by the audience on the last night of the programme.
However, the flag-waving crowds will not be at this year's 125th concert because of lockdown measures.
And, conductor Dalia Stasevska believes the time is right to "bring change".
Ms Stasevska, 35, is a known supporter of Black Lives Matter, claims a source in The Sunday Times.
The conductor is currently compiling the concert programme with Proms director David Pickard, 60, and South African vocalist Golda Schultz, 36.
"Rule, Britannia" is typically performed by around 80 members of the BBC Symphony Orchestra alongside a chorus of more than 100 singers.
However, those numbers have been dramatically cut because of social distancing rules.
Jan Younghusband, head of BBC music TV commissioning, said:
"We have a lot of problems about how many instruments we can have.
"It is hard to know whether it is physically possible to do [Rule Britannia].
'Some of the traditional tunes, like Jerusalem, are easier to perform.
"We also don't know if we'll be in a worse situation in two weeks' time."