A 250-year-old wild pear tree, once voted Tree of the Year, to be felled to make way for HS2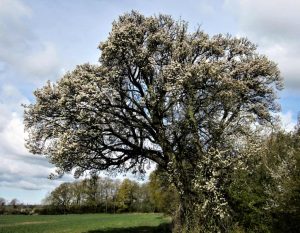 Picture Anne Langley
A 250-year-old wild pear tree, once voted Tree of the Year, is being cut down to make way for the HS2 line.
The tree still bears fruit and is a famous landmark near Cubbington in Warwickshire.
It is thought to be the second largest wild pear tree in Britain.
Agriculture students from Shuttleworth College in Bedfordshire have taken cuttings from the tree, voted Britain's best in 2015.
It's hoped they will take and be planted in churchyards, schools and villages.
Protesters have tried to shield the tree – and hundreds of others – from HS2 construction work.
But they have been evicted from the site.
Anne Langley, 77, from nearby Rugby, recently visited the pear tree.
She said: "It's tragic.
"It's upsetting.
"It's the loss of something irreplaceable.
"I was walking up the footpath and there on the horizon was this tree, standing out from the edge of the woods.
"It dominates the view."
Felling at the site was postponed during lockdown but is due to re-start in September.
Ms Langley said: "Sadly, the pear tree appears to be doomed.
"To think that it stood there for 250 years, against all the odds.
"You could imagine when it was little that somebody might have thought: 'Oh, I'll dig that up and put it in my back garden.'
"The fact that it endured so long … It's a symbol of hope for the future."
An HS2 spokesperson said:
"Seven million new trees and shrubs will be planted as part of the HS2 programme.
"The new native woodlands will cover over 9 sq. km of land."
HS2 will provide a link between London, Birmingham, Manchester and Leeds.