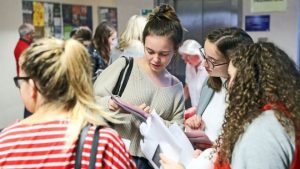 Schools in England who appeal against A-level and GCSE grades can do so for free, the Government has agreed.
The Department of Education (DfE) said state-funded schools and colleges will also be allowed to appeal free of charge.
The decision comes as the Government faces increasing criticism of its handling of exams during the coronavirus pandemic.
Thousands of hopeful students had their results "downgraded" by a computer algorithm.
Education Secretary Gavin Williamson admitted that "alongside the success of so many young people, there have been some difficult cases".
He added: "I have said repeatedly that my absolute priority is fairness for students, and I do not want anything holding them back from achieving the grades they deserve.
"So, all result appeals for state-funded schools and colleges will be free, helping to make sure every single student has the best possible chance of securing the grades they need in order to take their next step."
Appeals vary between exam boards – some can cost as much as £150.
The money is refunded if the appeal is successful.
It's thought the process could cost the Government £15 million.
Schools Minister Nick Gibb promised a "robust" and "swift" appeal system which should see challenged grades addressed by September 7 at the latest.
He told a protesting student:
"It won't ruin your life; it will be sorted I can assure you."
Mr Gibb added pupils can also sit exams in the autumn and "many universities are holding places open to start in January".
The DfE said:
"Schools and colleges will also be able to appeal if they believe their historic data does not reflect the ability of their current students – that may be because they have experienced a recent change in leadership or because they have one or a number of exceptional students."