Oxford's Worcester College accepts all UK students with an offer of a place, regardless of A-Level results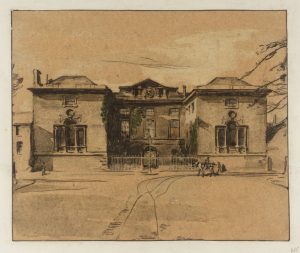 Worcester College, Oxford by Sir William Nicholson
Worcester College Oxford has said it will take all students with offers of a place, irrespective of their A-level grades.
The college website posted:
"Many members of our college community and beyond have expressed their concern for the potential impact of  A-level results on this year's incoming students.
"At Worcester we made offers in 2020 to our most diverse cohort ever, and in response to the uncertainties surrounding this year's assessment, we have confirmed the places of all our UK offer-holders, irrespective of their A-level results."
The college was praised for the quick decision as the Government comes under pressure over this year's results.
Because of the coronavirus pandemic, vital end-of-year exams have not been taken by sixth formers.
This year's results have been "standardised" by a computer algorithm based on mock exam scores.
Thousands of students have been given lower grades that they expected – spoiling their chances of going to a university of choice.
Many students took to social media to praise the Worcester decision.
One posted to Twitter:
"This is an absolutely outstanding move by Worcester College.
"Demonstrates real vision and leadership when so many other institutions are shutting out bright, capable students because an algorithm told them to."
Another posted: "This is incredible!
"So wonderful to see an Oxbridge college putting students first and fighting for the diversity of its students.
"Let's hope for a domino effect!"
Professor Laura Ashe, Tutor for Admissions at Worcester College, Oxford, said:
"In a normal year we over offer a bit and we assume that some people won't make their grades and then we don't accept them.
"But when A-levels were cancelled and we realised this was going to mean that none of these students were going to actually be taking these exams we felt that we weren't going to have any new information that reflected directly on their ability or their potential.
"So, we took the view at that point that we were going to need to find a way to make places for all these people.
"Groups of students that were underrepresented at Oxford, students who come from more disadvantaged backgrounds were disproportionately affected by this year's grades.
"It was announced just quite recently by Ofqual that the prior performance of schools was going to play a key role in how that grades were calculated and that means if someone is the brightest person their school has ever seen their grade was going to be pulled down by the fact other people in earlier years hasn't performed as well.
"And that seemed wrong for us."
Universities Minister Michelle Donelan has told universities to hold places for applicants challenging A-level grades until the outcome of their appeal is known.