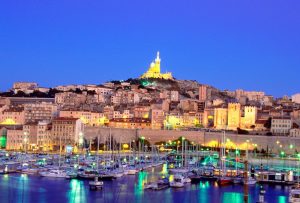 Marseille Harbour
Paris and Marseilles have been declared high-risk coronavirus zones by the French Government.
Local authorities have been given powers to impose their own lockdown rules to help curb the disease.
The move comes as possibly four hundred thousand British holidaymakers in France have until Saturday morning to return to Britain to escape being in quarantine for 14 days.
Covid-19 infections have increased in the country over the last two weeks.
For the second day running it reported more than 2,500 new cases.
Those levels were last seen during the height of the pandemic in mid-April.
Local authorities can now limit the movement of people and vehicles and restrict travel on buses, planes, and boats.
They can also close bars and restaurants.
Wearing face masks in already mandatory.
The clampdown is a major blow to Paris and Marseille.
Both rely heavily on tourism.