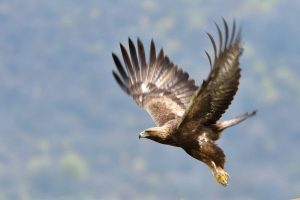 Golden eagles have bred in the Scottish Highlands for the first time in 40 years.
A pair reared a chick in an artificial eyrie on the Dundreggan estate.
Manager Doug Gilbert described the event as a "rewilding success story beyond our wildest dreams".
He added: "I feel elated. Absolutely amazing.
"To have done a little bit of management, and to have a wild bird decide it's a good place to be, and produce a chick, then it's wonderful."
However, Mr Gilbert cautioned:
"I do worry for the safety of the chick.
"They are renowned for wandering quite far distances.
"There are several black spots where eagles regularly disappear.
"Some of them are well within range of a young golden eagle – just 50 km away, and chicks can travel for 100-150km.
"What we are doing here won't change the course of history.
"But if we can produce one chick, rather than one being killed somewhere else, then it's a good thing."
The artificial eyrie was built with native pines and birch trees that cover the mountain slopes.
Mr Gilbert has been checking it every Spring for the last five years.
The Dundreggan "rewilding" estate is near Glenmoriston, between Loch Ness and Skye.