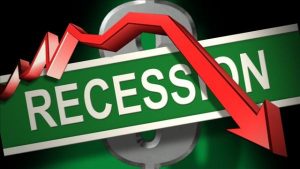 Britain has plunged into its deepest recession on record in the first six months of the year.
The coronavirus pandemic helped contract the economy by more than one fifth between April and June.
The economy shrank by 20.4% in the second quarter of the year, more than any other G7 nation.
The drop puts the UK into its first recession since the 2008-2009 financial crisis.
The dramatic fall in output came after a 2.2 per cent drop in the first three months of the year.
A recession is defined as two successive quarters of decline in Gross Domestic Product (GDP).
America and the Eurozone are already in recession.
There were signs of a green shoot recovery as the monthly GDP rose by 8.7% in June.
But it is 17.2% below February 2020 levels, the Office for National Statistics (ONS) said.
The ONS added that businesses are increasing output as demand has risen following the easing of social distancing and lockdown measures.
And, manufacturing, construction and services all experienced widespread growth in June as businesses resumed.
But, output in all three sectors remained significantly below pre-pandemic levels.