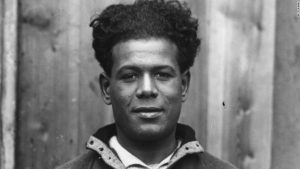 A campaign to erect a statue to a footballer who was dropped by England because he was black, has reached its target.
Jack Leslie was chosen to play for his country in 1925.
But he was rejected when the selectors heard he was black.
Now, the Jack Leslie Campaign has raised more than £133,000 to honour the player.
The statue will stand outside Plymouth Argyle's Home Park ground.
Leslie played 401 times for the Pilgrims between 1921 and 1934.
Club owner and chairman Simon Hallett said:
"It is just fantastic, I am so, so pleased.
"It has been a great effort.
"After what has happened in the last six months and in the last few years, we've tried hard to get on the front foot a bit more.
"I think it is no longer enough to just say we are not racist; it is time to start standing up and joining the fight and this is our small way of doing that."
Leslie's granddaughter Lyn Davies said:
"I nearly fell over when I realised we had gone over the £100,000.
"It's just amazing, I'm stunned."
A campaign spokesperson said:
"Nearly 100 years ago Jack Leslie should have been pulling on an England football shirt and making history, but he was denied because of his race.
"It's time for us all to right that wrong and recognise this remarkable player's achievements with a statue – a memorial to someone who deserves a public monument."
Free scoring centre forward Leslie was picked to play for England against Ireland.
However, within days of the announcement his name had disappeared from the team sheet.