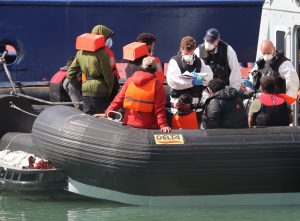 Britain and France are to hold talks in a bid to stop the rising flow of migrants crossing the Channel.
Immigration Minister Chris Philp is to meet his opposite number in Paris to try to solve the growing crisis.
Fine weather and calm seas have seen more than 600 migrants make the crossing over the last few days.
It's estimated more than 4,000 have made the perilous journey this year.
The Channel is the world's busiest shipping lane.
The migrants' small inflatable vessels are going across the flow of traffic.
Boris Johnson has condemned the "cruel" criminal gangs who put migrants' lives at risk.
Home Secretary Priti Patel said the UK authorities needed to work with the French to make the route "unviable".
She added: "The number of illegal small boat crossings we have seen recently is totally unacceptable.
"Our operational partners are dealing with complex challenges associated with them and collectively with the French we need make this route unviable.
"Across Government we are absolutely committed to shutting down this route and we will bring down the criminal gangs that facilitate these illegal crossings."
Britain wants France to adopt a tougher stance on the migrants – including interceptions at sea and the direct return of boats.
To beef up operations on this side of the Channel, the Government has called in the Royal Navy and deployed an RAF A400M surveillance aircraft.
The plane will spot migrants to support Britain's Border Force.
Calais MP Pierre-Henri Dumont said it was a "political measure" intended to show ministers were taking action but warned that it "won't change anything".