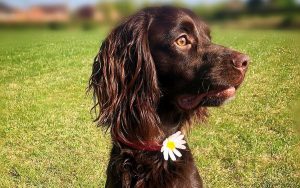 Jasper, a chocolate brown working cocker spaniel, is in the frontline helping to detect coronavirus.
The 19 months' old male is part of a six pack of dogs trained to sniff out the virus.
His sense of smell is so "brilliant" he can spot the symptoms before they appear.
Jasper is working with Digby, Storm, Star, Asher and Norman at the London School of Hygiene & Tropical Medicine (LSHTM).
Durham University and the charity Medical Detection Dogs is also collaborating on the project.
The research is backed by £500,000 Government funding.
Jasper was rescued by the Wood Green animal charity in Cambridgeshire.
He'd been abandoned.
His foster mum Sammi Parker, 27, from Milton Keynes, said:
"He's a lovely dog and he's achieved so much after coming from rescue.
"He's a typical spaniel.
"He's a joy to walk.
"Spaniels often don't have an off switch, but he's quite happy to curl up and watch David Attenborough.
"He's very easy going."
Jasper works a non-stop five-day week smelling and training.
It's hoped he and his dog chums will analyse samples from NHS staff, including t-shirts, stockings and face masks.
After intensive training he'll then be working with actual coronavirus samples.
It takes up to two months to see if the dogs can accurately detect the odour.
Dogs are already used to smell diseases such as malaria, cancer, and Parkinson's.
A dog has 300 million scent receptors in its nose.
A human has five million.
Professor James Logan, lead researcher and Head of the Department of Disease Control at the London School of Hygiene and Tropical Medicine, said:
"If we can demonstrate that dogs can detect Covid-19 in our study, dogs like Jasper could play a huge role in diagnosing people, getting airports and airlines back up and running, and help us all get back to normal quicker.
"We have a lot of reasons to think that it will work, based on previous studies that have shown diseases have distinct odours and dogs can detect them with great accuracy.
"There is no reason to think Covid-19 would be any different.
"So, we are extremely hopeful."
"The dogs won't have to come into contact with any infected person."