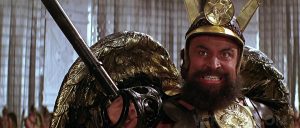 Larger than life actor Brian Blessed claims "Flash Gordon" is the Queen's favourite Christmas film.
Blessed, 83, was revealing secrets behind the sci-fi which celebrates its 40th anniversary this week.
He said everyone he meets wants him to say – or perhaps bellow – the film's iconic phrase "Gordon's alive!".
Even her Majesty wanted a sneak preview of the line when she honoured him with an OBE for services to the arts and charities in 2016.
Blessed recalls the Queen telling him it's her favourite film, adding – "she watches it with her grandchildren every Christmas."
Imitating the Queen's diction, Blessed adds she once asked him to say his catchphrase for her family.
He said the Queen told him – "You know, we watch Flash Gordon all the time, me and the grandchildren.
"And if you don't mind, I've got the grandchildren here, would you mind saying 'Gordon's alive'?"
Blessed said: "Everywhere I go, they all want me to say 'Gordon's alive!'.
"Wherever I go, the butcher, the baker, the candlestick maker, horses and queens, and Prime Ministers, they all want me to say, 'Gordon's alive!', it's their favourite film."
Blessed – who played Prince Vultan – said "it's an absolute masterpiece".
He acknowledges Flash was never going to compete with the Star Wars franchise.
But the 1980 film was a huge hit in Britain.
Blessed said it had some great actors, brilliant "eye-popping" visuals and an "absolute banger" of a soundtrack by Queen.
To celebrate the anniversary the film has been remastered to 4K quality from the original 35mm negative.
More than 500 hours of hand-crafted work has repaired serious damage that included image instability, scratches and intermittent flicker.
Here's a sneak preview: