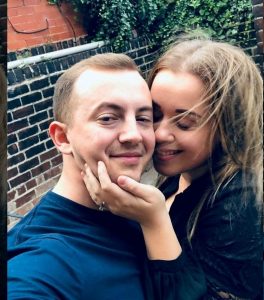 Albert and Valerija
Old romantic Albert Ndreu had a burning passion for his girlfriend.
And to show his flaming desire he wrote on his flat floor with lit candles and 100 tea lights "Marry Me?".
And, not wanting to gild the lily, he added 60 balloons to the show of love.
Oh. And don't forget the opened bottle of red wine and a non-stop love song playlist.
Everything was perfect.
With an engagement ring in his pocket, an excited Albert, 26,  left his home in Sheffield to pick up Valerija Madevic, 22.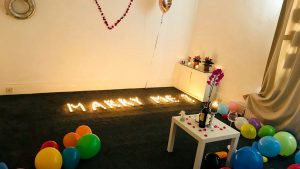 But when he returned home to make his marriage proposal the party had started without him and Valerija.
Three fire engines were readying to battle the blaze that had engulfed his flat in Sheffield.
Despite the damage waiter Albert dropped to one knee and proposed among the debris.
Valerija said "yes".
Albert said: "I was planning the proposal for over two weeks – I kept struggling to find the right thing to do to mark the special moment.
"I wanted to do something from my heart even if it didn't go exactly as planned.
"Valerija always says the most important thing is the small gestures every day – but I wanted to do something special for the proposal."
"I just needed to make sure the day was perfect.
"It didn't go exactly as I thought it would.
"But she said 'yes', so I think the day took an unexpected turn but ended up exactly how I wanted it to."
Describing his party preparations, he said:
"I put balloons and candles everywhere.
"I wanted to say something like she was the light of my heart, but maybe that was too much light."
"I was so worried about everything going wrong I never imagined I could set the house on fire.
"But it will always be an unforgettable day for us and a story which will be amazing to tell our children."
Valerija said: "He pulled out a box from his pocket and I was just speechless.
"He said that he messed up – our house was literally in flames – but asked me if I would marry him.
"And I said yes."
The pair are hoping to tie the knot on the anniversary of the fire and said they'd invite the fire brigade as special guests – both to thank them and as a preventive measure.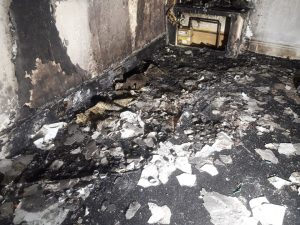 Picture South Yorkshire Fire and Rescue Service
South Yorkshire Fire and Rescue service posted pictures of the damage and warned people of the dangers of lit candles.
The fire brigade posted to Facebook:
"So, here's the deal.
"Look closely at these photos and you'll see lots of burnt out tea lights. Hundreds of them.
"These were lit by a chap in his Sheffield flat, as he prepared to pop the question to his girlfriend.
"Balloons were up and wine glasses were at the ready.
"However, after going round the corner to collect his fiancé-to-be, ready for the romantic moment, he came back to find the flat on fire and three fire engines on the way.
"Fortunately, this was dealt with quickly by our crews and nobody was injured.
"The best news? She still said YES."