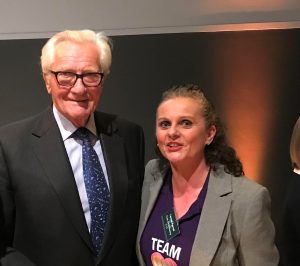 Teresa Farrell and Lord Heseltine
Mental health campaigner Teresa Farrell is looking for an army of volunteers to "police" every street in a housing estate.
Ms Farrell wants someone looking after everyone in each of the 94 roads that criss-cross Chelmsley Wood, in the West Midlands.
The teams would offer support for people suffering from depression and anxiety as the coronavirus pandemic continues.
Ms Farrell, 53, said:
"We have never seen anything like this before in our lifetimes.
"There are people struggling with depression who have never suffered.
"Many vulnerable people have been scared by coronavirus – they are too frightened to leave their homes.
"As a result, they are not taking exercise or seeing people.
"Loneliness is rife and we have to try to help and reach out to the people who are in the deepest, darkest position.
"Things are not going to go back to how they were – not for a long time.
"Covid is still out there."
Ms Farrell, who used to live in Chelmsley Wood has already recruited 25 volunteers and secured £4000 from Sport England.
However, she needs another £30,000 and 70 more helpers.
The scheme is an extension to her Push on Wellbeing campaign – aimed to help local people keep fit physically and mentally.
Councillor James Burn (Green, Chelmsley Wood) said he was frustrated at the speed of change and the issue needed to remain a major focus.
He said: "Loneliness is the biggest source of misery in this country and costs the public purse hugely and needs far more action.
"This isn't just an issue which affects older residents.
"Suicide is the single biggest killer of men in their 20s and 30s."
Ms Farrell recently discussed the issue with Lord Heseltine.
He presented a report last month to the House of Lords called "Empowering English cities.
It calls upon the Government to allow local leaders to invest better in local needs.