James Murdoch quits father's News Corp empire over "editorial disagreements"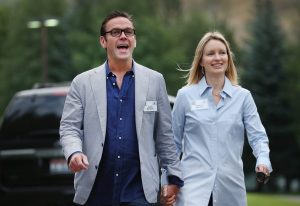 Rupert Murdoch's son James has resigned from the board of News Corporation.
He cites "disagreements over certain editorial content" published by the media empire's news outlets.
James, 47, said the resignation was with "immediate effect".
In a letter filed to the US Securities and Exchange Commission (SEC) he wrote:
"Ladies and Gentlemen: I hereby tender my resignation as a member of the Board of Directors of News Corporation (the "Company"), effective as of the date hereof.
"My resignation is due to disagreements over certain editorial content published by the Company's news outlets and certain other strategic decisions."
Rupert Murdoch, executive chairman of News Corporation, and his other son Lachlan, co-chairman, issued a joint statement.
It said: "We're grateful to James for his many years of service to the company.
"We wish him the very best in his future endeavours."
The reasons for James' departure are not known.
However, James recently donated more than £467,000 to the Joe Biden presidential campaign.
His wife Kathryn gave a similar amount.
And the couple took direct issue with the way News Corporation covered the recent bush fires in Australia.
At the time, a spokesperson for James and Kathryn told The Daily Beast:
"Kathryn and James' views on climate change are well established and their frustration with some of News Corp and Fox's coverage of the topic is also well known.
"They are particularly disappointed with the ongoing denial of the role of climate change among the news outlets in Australia, given obvious evidence to the contrary."