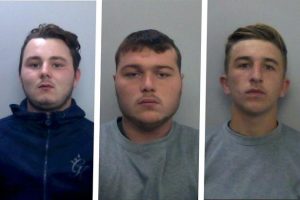 Picture Thames Valley Police
The killers of a policeman dragged to death behind their getaway car have been jailed.
The ringleader and driver Henry Long, 19, was jailed for 16 years for manslaughter.
His two accomplices Albert Bowers and Jessie Cole, both 18, were sentenced to 13 years for the same offence.
Thomas King, 22, who was not in the car, was sentenced to two years after he previously pleaded guilty to conspiring to steal a quad bike.
Pc Andrew Harper, 29, died from "catastrophic injuries" after being dragged at "breakneck" behind a Seat Toledo for nearly a mile.
The officer, who was married for only a month, became entangled in a rope attached used to steal quadbike.
Sitting at the Old Bailey, Mr Justice Edis, told the teenagers they had committed an act of "wicked calculation".
However, while not guilty of murder, it was a serious case of manslaughter.
Justice Edis said their actions showed a recklessness towards the risk of killing Harper.
He told Long his evidence showed he was a dangerous person who might kill again were he allowed to continue his criminal career.
Pc Harper's widow Lissie, 28, made an emotional witness statement to the court.
Between sobs she described the "indescribable trauma" she has endured.
She said: "My husband was brutally killed four weeks after our wedding day.
"My life often feels bleak, hopeless, irreparable."
"Not only did these men take this man from me, they took our future too.
"They took more than one life away that day, they stole the person I used to be."