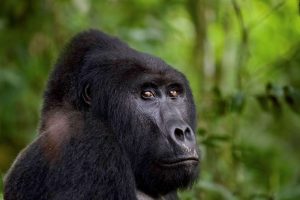 Rafiki
A man who killed a beloved mountain silverback gorilla with a spear has been jailed for 11 years.
Rafiki was reported missing in the Bwindi Impenetrable National Park in Uganda.
His body was found after a search by tackers and rangers.
A man was arrested four days later in a nearby village.
Investigators found traps and snares and weapons.
Felix Byamukama pleaded guilty to illegally entering a protected area and killing a gorilla.
He claimed he had acted in self-defence, claiming Rafiki attacked him.
However, vet Gladys Kalema-Zikusoka said there were no signs Rafiki tried to attack the man.
She said it's likely the man encountered the gorilla while out hunting for small game.
She said: "He may have got scared, because he has never been that close to a gorilla.
"We hope the sentence will deter wildlife hunters."
Bashir Hangi, a spokesman for the Uganda Wildlife Authority (UWA), said:
"Rafiki has received justice.
"This should serve as an example to others, to know that the law is biting.
"Wildlife belongs to each and every one of us."
More than 1,000 mountain gorillas live in protected areas in Congo, Uganda, and Rwanda.
Rafiki was aged about 25 years.
He was the lea of a group of 17 mountain gorillas.
The group had become "habituated" – use to human contact.
Conservationists feared the group would be taken over by a wild silverback who would take the gorillas away from humans.
But the UWA confirmed a black-back from within the group is now the new leader.
Gorillas are an important source of tourism revenue for the region.
A gorilla tracking permit can cost up to £750.
The fees are invested in anti-poaching activities and to help local communities.