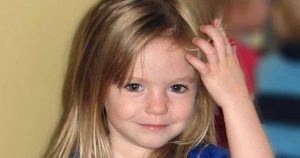 Police investigating the disappearance of Madeleine McCann have searched a garden in Germany.
It's reported they found the remains of a cellar at the property in Hanover.
Prosecutors said the search was connected to murder inquiries concerning a 43-year-old man.
The man was not named.
However, officers believe Christian Brueckner killed three-year-old Maddie soon after abducting her from a holiday resort in Praia da Luz, Portugal.
Brueckner is currently in prison in Germany for drug dealing.
He is also appealing against a conviction for the 2005 rape of a 72-year-old woman, also at Praia da Luz.
The German newspaper Bild reported the foundations of a garden house were found on the site and a hidden cellar room was uncovered.
Two excavators, forensic teams, sniffer dogs and detectives have been digging the site and combing through the spoil.
Brueckner reportedly lived there during 2007, a former neighbour told local media.
He said he had lived "off grid" and had left within a year.
A spokeswoman for the state prosecutor confirmed that the search was part of its investigation into the disappearance of Madeleine in in 2007.