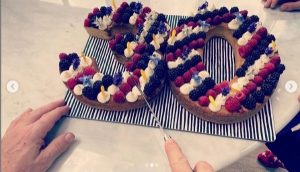 Picture Elton John Instagram
Sir Elton John said he'd "be dead" if he hadn't quit drugs and drink 30 years ago.
The singer celebrated his sobriety anniversary with an Instagram post.
He wrote:
"Reflecting on the most magical day having celebrated my 30th Sobriety Birthday.
"So many lovely cards, flowers, and chips from my sons, [husband] David, friends in the Program, staff at the office and in our homes.
"I'm truly a blessed man.
"If I hadn't finally taken the big step of asking for help 30 years ago, I'd be dead.
"Thank you from the bottom of my heart to all the people who have inspired and supported me along the way."
Sir Elton also uploaded a picture of himself cutting into a 30 shaped cake, and one showing off his 30-year sobriety coin.