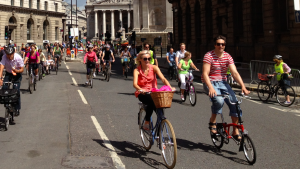 Boris Johnson's pledge to get Britain biking back to health has already crashed.
Before anyone could claim a £50 voucher to fix up old bikes the website went down.
Fixyourbikevoucherscheme.est.org.uk was supposed to go live at 11.45pm on Tuesday.
The Government is giving away 50,000 Fix Your Bike vouchers as part of its new Better Health campaign to help people to lose weight.
Mr Johnson, a keen cyclist, has committed £2 billion to putting bums on bike seats.
But when people tried to claim the voucher "Error 404" message flashed up.
Later messages said the site was busy.
Angry cyclists used social media to complain.
#FixYourBikeVoucherScheme quickly became the UK's number one Twitter trend.

One disappointed cyclist tweeted: "After 1 hour and 45minutes of refreshing, I'm going to bed.
"So disappointed in the way this has been handled.
"Was really hoping to fix my bike but instead all I'll be is super tired at work tomorrow."
Someone else wrote: "Essentially spent the last hour holding my eyelids open to be able to register for the #FixYourBikeVoucherScheme.
"Of course, the website is down. This is the government we're dealing with."
The website finally began working around 4am.
The £2 billion scheme will provide thousands of miles of new cycle lanes and bike training.
And, there's a scheme to tackle the rise in bike thefts.
The Government is urging people to lose at least 5lbs and save the NHS an estimated £150 million a year.
Scientists believe people who are overweight are more susceptible to the Covid-19 virus.
Indeed, Mr Johnson admits his overweight was a factor as he nearly died from coronavirus