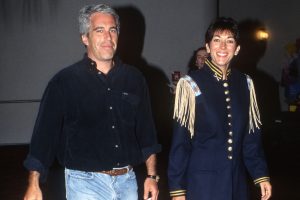 Socialite Ghislaine Maxwell hopes to stop nude pictures and "sexualised" video evidence being shown ahead of her trial, a court heard.
Ms Maxwell's legal team lists the "highly confidential" material in a proposed protective order filed in a Manhattan court.
Her lawyers argue the material should be kept out of the public eye.
The order reads:
"The highly confidential information contains nude, partially-nude, or otherwise sexualised images, videos, or other depictions of individuals," which Ms Maxwell does not wish to be "disseminated, transmitted, or otherwise copies."
Ms Maxwell, 58, is being held in the Metropolitan Detention Center in Brooklyn, New York.
After losing a bail hearing she could be imprisoned for a year as she awaits trial.
The daughter of the late disgraced press baron Robert Maxwell faces charges grooming underage girls and perjury.
It's alleged she helped convicted paedophile Jeffrey Epstein secure teenage girls.
Ms Maxwell has denied all charges.
FBI investigators recovered a hoard of photographs during a search of Epstein's Manhattan home.
A black book which held the names of several high-profile figures was also found.
Ms Maxwell is also facing a civil lawsuit brought by one of Epstein's victims, Virginia Roberts Giuffre.
Ms Giuffre claims she was forced to sleep with Prince Andrew when she was 17.
The Duke of York has denied all accusations.