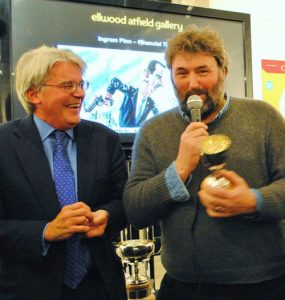 Steve Bell accepting "Cartoon of the Year" award from MP Andrew Mitchell
The world's expert on political cartoons has said he's shocked at the Guardian's decision to let award winning artist Steve Bell leave.
Bell has drawn cartoons for the Guardian for the last 40 years.
Leading authority and cartoon book author Dr Tim Benson said Bell was "indispensable" to the paper.
He described him as a man who had "got under the skin of more Prime Ministers" than anyone else.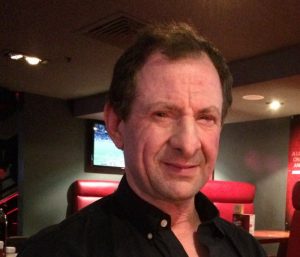 Dr Tim Benson
Dr Benson, who runs the Political Cartoon Gallery in west London, added:
"Steve Bell is one of Britain's heavyweights when it comes to political cartooning.
"I was shocked when I heard his contract was not being renewed.
"This is very wrong.
"He has got under the skin of more Prime Minister than any other cartoonist before him."
Bell, 69, drew Prime Minister John Major wearing grey underpants outside his trousers and Tony Blair with a mad-squinting eye.
After the death of Maggie Thatcher, he drew her descending into hell – and complaining about a pit still being open.
The drawing won him "Cartoon of the Year" award, presented by Andrew Mitchell, MP.
However, Bell's work has been recently criticised by the Guardian; editors spiked two cartoons.
Bell commented: "Does the Guardian no longer tolerate content that runs counter to its editorial line?"