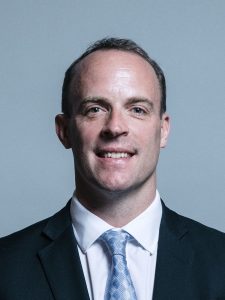 Foreign Secretary Dominic Raab
Britain is to cut foreign aid money to China after sending £71 million in a year.
China has the world's second largest economy.
Foreign Secretary Dominic Raab has ordered £2.9 billion to be removed from this year's aid budget.
A source said the "axe would fall" on China.
Conservative MPs want an inquiry into why British taxpayers' money was being spent on a country that is "breaking every rule in the book".
Over the last few months Anglo-Sino relationships have soured.
Britain is concerned about the unrest in Hong Kong, human rights abuse of Uighur Muslims, and an alleged failure to stem the coronavirus pandemic.
There is also the brouhaha over the British Government tearing up its 5G deal with Chinese tech titan Huawei.
Britain's move to cut aid funding comes after £71.6m of taxpayers' money was spent either directly or through the UN and EU on China, some of it to help businesses compete with Britain.
Government sources said that a "line by line" review of aid projects had taken place and what were considered the "40 most vulnerable countries" would now be prioritised for help.
However, Mr Raab said the UK will continue to meet its commitment to spend 0.7 per cent of gross national income (GNI) on international development.