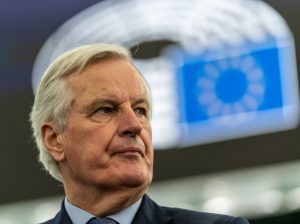 Michel Barnier
A post-Brexit trade deal between the UK and EU is "unlikely".
The comment came after a round of talks between the two sides ended in stalemate.
The EU's chief negotiator Michel Barnier warned the "time for answers is quickly running out".
He added: "By its current refusal to commit to the condition of open and fair competition, and to a balanced agreement on fisheries, the UK makes a trade agreement at this point unlikely."
Britain is scheduled to leave the EU at the end of 2020.
Both sides agree any trade deal need to be concluded by October to be ratified in time.
The UK chief negotiator David Frost said, "considerable gaps remain in the most difficult areas".
He added: "It is unfortunately clear that we will not reach in July the 'early understanding on the principles underlying any agreement' that was set as an aim at the high-level meeting on June 15."
Mr Frost said the risk of a no-deal is still possible.
He said: "We have made progress in areas like trade, trade of goods and services, transport, social security cooperation, EU programmes, participation and so on, which is good.
"But nevertheless, big differences do remain, in particular with the familiar questions of the… so-called level playing field and fisheries policy.
"We're in a negotiation.
"Either outcome is possible. We will work energetically to get a deal, but it is possible we won't reach one."
Mr Barnier said the UK's position on fisheries is "simply unacceptable".
He said: "The UK is effectively seeking for near-total exclusion of fishing vessels from the UK's water.
"This week again the UK did not show a willingness to break the deadlock."