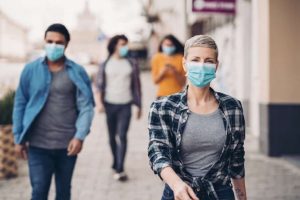 A police force has said it will not respond to complaints about shoppers refusing to wear face masks.
The Devon and Cornwall force is the first to admit its officers are "too busy" to become involved in shop disputes.
However, it would respond if the situation was violent or disorderly.
It becomes mandatory on Friday for people in England to wear a mask in shops or enclosed spaces.
There is the threat of a £100 fixed penalty notice for not doing so.
But there is confusion over how the rule will be enforced.
Retailers have said their staff will not become involved.
George Eustice, the Environment Secretary, has said shops would have a "role to play".
However, he added:
"When it comes to that final sanction of issuing a penalty, that is something that only the police can do."
Alison Hernandez, police and crime commissioner for Devon and Cornwall, said officers would not investigate reports of people not wearing masks.
She said: "We are moving back into ordinary policing.
"The expectation is that [officers] will only come if there is disorder or violence or something associated with it.
"They are not going to come to every phone call that someone is not wearing a mask."
The National Police Chiefs Council (NPCC) said officers would only intervene over face masks as a "last resort".
Andrew Goodacre, the CEO of the British Independent Retailer Association, said:
"This is not the role of retailers, and we would be concerned any such enforcement may lead to a further increase in the number of threats and abuse shop workers in the UK are currently experiencing."
A recent survey by the Institute of Customer Service (ICS) found that more than 50 per cent of shop workers had faced abuse from customers during the coronavirus pandemic.
Three-quarters said they had experienced verbal hostility, and more than a quarter said they had been subjected to physical assault.
The rise in anger comes as workers had to "police" social distancing in shops and deal with "frustrated customers".