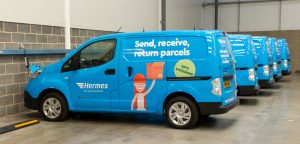 Parcel delivery firm Hermes is to create 10,500 jobs to cope with the increased demand from home shopping.
The company needs 9,000 more couriers and 1,500 warehouse workers, managers, and supervisors.
It currently employs 4,515 staff and 20,000 drivers.
The company has invested £30 million into expanding its operations during 2020.
It has bought vans and opened depots.
Home shopping has reached new levels as the lockdown closed Britain's High Streets.
Hermes expects to handle more than 3.5 million parcels a day in the run-up to Christmas.
Martijn de Lange, CEO Hermes UK, said:
"The pandemic has expedited the already phenomenal growth of online shopping and we see no sign of this changing.
"As a result, it is important that we have the right infrastructure and people in place to support this.
"This is good news for the many people who have sadly had their income affected and we are pleased to be able to support the UK economy with so many jobs at this time."