Mods and Rockers join forces in Brighton over council road plans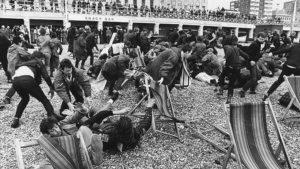 Mods and Rockers Brighton 1964
Mods and rockers joined forces in Brighton to reopen the famous sea-front to vehicles.
The two rivals famously clashed at the "Battle of Brighton Beach" in 1964.
The bitter hand-to-hand fighting was the setting for The Who musical Quadrophenia.
Brighton and Hove Council closed Madeira Drive during lockdown to give more open space for residents to exercise.
However, the council is now considering keeping the road permanently closed.
More than 150 Mods and Rockers united for the demonstration on Sunday.
Laura King, of the Brighton and Hove Heritage Commission, said:
"It is absolute madness that the council has closed a road that brings in millions of pounds into the economy at a time when we are entering a recession.
"There are 35 traders who are on rent strike with the council as they are normally only allowed to close it for 21 days.
"The road was not closed lawfully, it was closed with no notice, it was meant to be temporary but there is no end to temporary."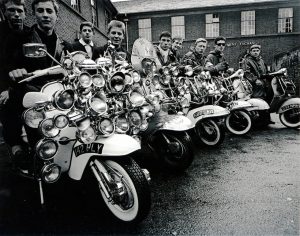 Mods were "modernists" who rode scooters festooned with side mirrors and lights.
They wore smart shirts, Levi Stay Press trousers, and fur-trimmed Parka jackets
Rockers – known as "greasers" – rode motorbikes and wore jeans and leathers.
Mods were a new generation taking Britain into the heady days of the 60s.
But rockers were thought a lingering throwback to the austere 50s.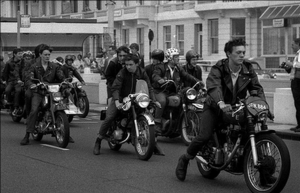 The "Battle of Brighton Beach" was labelled by the press as a conflict of "disastrous proportions".
The authorities believed the country was slipping towards "moral decay and anarchy".