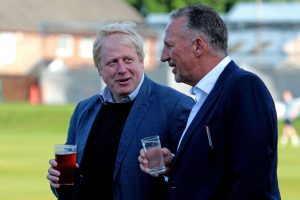 England cricket legend Sir Ian Botham is to be given a peerage for his Brexit support.
His name is among 30 new peers to be announced later this month, The Times reports.
Prime Minister Boris Johnson will also offer peerages to four ex-Labour MPs who supported Brexit in the 2016 campaign.
And, there is an olive branch to Conservatives Ken Clarke, Philip Hammond, and Ed Vaizey.
They had the whip withdrawn after trying to block Brexit's progress through the Commons.
Sir Ian, 64, is one cricket's greatest ever player.
The all-rounder – nicknamed "Beefy" – scored 5,200 Test runs and took 383 Test wickets.
He had a swashbuckling style at the crease.
He publicly supported Mr Johnson during the Brexit campaign and stood by his side in County Durham before the vote.