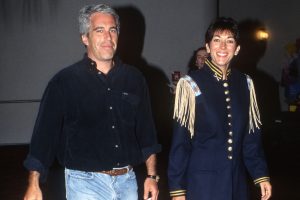 Ghislaine Maxwell has secretly married but has refused to name her husband, a court was told.
Maxwell has not disclosed the man's identity to the FBI team investigating allegations of sex-trafficking and perjury.
The marriage information was in court papers presented to stop Maxwell being granted bail.
Federal prosecutors argued the non-disclosure showed how she had not been forthcoming about her circumstances and finances.
The bail application was refused, and Maxwell faces a year in prison before her trial in July 2021.
The socialite daughter of the late press baron Robert Maxwell is accused of helping her former lover Jeffrey Epstein traffic and groom young girls for sex.
Maxwell is also a former lover of Prince Andrew.
The FBI want to talk to Andrew about sex allegations.
Prosecutor Alison Moe told the judge during bail arguments in a New York courthouse late on Tuesday:
"In addition to failing to describe in any way the assets of the proposed co-signer of a bond, the defendant also makes no mention whatsoever about the financial circumstances or assets of her spouse, whose identity she declined to provide to pretrial services.
"There's no information about who will be co-signing this bond or their assets, and no details whatsoever."