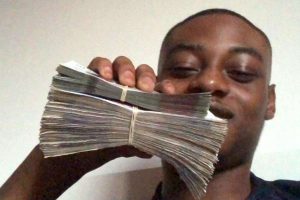 Credit: DCPCU
A credit card fraudster ran up a £110,000 bill during a two-month spending spree.
Christopher Mambi, 22, drank champagne and ate the finest meals.
He treated himself and friends to designer clothes and gifts – all paid for on bank cards obtained with false names and addresses.
He was finally arrested at the Aldgate hotel in London while trying to pay for a slap-up meal.
Alert staff recognised the fraudulent card had been used before to pay a £1,200 bill.
When police searched his home in Dalston north London, they found counterfeit bank cards, a mobile phone, and several passports.
Mambi had also taken pictures of himself holding wads of cash and left them on his phone.
He pleaded guilty at the Inner London Crown Court to 22 counts of fraud and was jailed for two years and six months last week.
Mambi was caught by the Dedicated Card and Payment Crime Unit (DCPCU) – a specialist police fraud unit sponsored by the banking and finance industry.
Detective Sergeant Ben Hobbs, of the DCPCU said:
"This criminal thought he could get away with committing £110,000 of fraud by using fraudulent bank cards and identity documents.
"Fortunately, we were able to track down Mr Mambi and bring him to justice.
"This sentencing is a warning to those who believe they can benefit financially from fraud.
"They will be caught and punished."