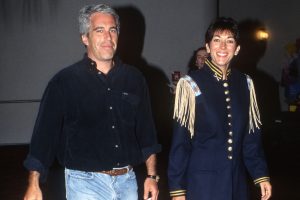 Ghislaine Maxwell cried and hung her head after a judge refused to grant her bail.
Maxwell, 58, was deemed to be a "substantial flight risk" if allowed out of custody.
She was also accused by her alleged victims of being a "sex predator with no remorse".
Socialite Maxwell is a former lover of convicted sex offender Jeffrey Epstein.
He was found dead in his prison cell last year.
Maxwell, daughter of disgraced press baron Robert Maxwell, is accused of luring teenage girls for billionaire Epstein to abuse.
She could remain in custody until her trial date in a year's time – set for July 12th.
Yesterday's hearing was held through a video link.
Maxwell entered a plea of "not guilty".
Judge Alison J. Nathan said there are "no combination of conditions" that could ensure Maxwell did not try to flee.
Judge Nathan added: "The risks are simply too great."
And, she said the accused "demonstrated sophistication in hiding her resources and herself" before being found by the FBI.
Maxwell faces four counts of transporting minors for illegal sexual acts and two for perjury.
During the two hours' hearing statements were heard from two alleged victims.
Annie Farmer said Maxwell "has never shown any remorse for her heinous crimes".
Ms Farmer added through an audio-link:
"The danger Maxwell poses must be taken seriously
"She is a sexual predator who groomed and abused me and countless other children and young women.
In a statement read in court an unidentified second woman said:
"Without Ghislaine, Jeffrey could not have done what he did.
"If she is out, I need to be protected."
Nathan said the evidence currently "appears strong" against Maxwell, who faces up to 35 years in prison if convicted.
Maxwell's lawyers wanted a bail package including a $5 million (£3.9 million) bond and home confinement with electronic monitoring.
Judge Nathan said: "No combination of conditions could reasonably assure her presence in court.