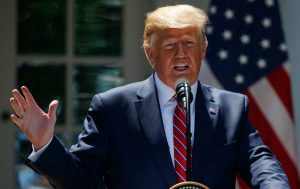 Donald Trump has taken the credit for Britain dropping Huawei from its 5G network.
The major U-turn by Boris Johnson will see Huawei kit removed from the communication infra-structure by 2027.
The move will cost more than £2 billion and delay the UK's 5G plans by three years.
The decision has also caused further Anglo-Sino problems, souring relations between the two countries.
However, the American President said about applying pressure to drop Huawei:
"I did this myself, for the most part.
"If they [other countries] want to do business with us, they can't use it."
Mr Trump boasted in a press conference that no White House "has been tougher on China" than his administration.
He said: "We convinced many countries — many countries — and I did this myself, for the most part — not to use Huawei because we think it's an unsafe security risk.
It's a big security risk.
"I talked many countries out of using it.
"If they want to do business with us, they can't use it.
"Just today, I believe that UK announced that they're not going to be using it.
"And that was up in the air for a long time, but they've decided."
Mr Johnson's volte farce on Huawei appeased Washington but angered China.
Its ambassador to the UK Liu Xiaoming tweeted:
"Disappointing and wrong decision by the UK on Huawei.
"It has become questionable whether the UK can provide an open, fair and non-discriminatory business environment for companies from other countries."
Health Secretary Matt Hancock acknowledged US sanctions played a role in the ban.
He said: "We all know Donald Trump, don't we?"
"All sorts of people can try to claim credit for the decision, but this was based on a technical assessment by the National Cyber Security Centre about how we can have the highest quality 5G systems in the future.
"We are looking for a good US trade deal and working very closely on that, I think that's a very important consideration."
Huawei denies being a security threat.
It said the issue had become politicised and urged Britain to think again.
Huawei UK spokesman Ed Brewster said the "disappointing decision" is "bad news for anyone in the UK with a mobile phone".
He added: "We remain confident that the new US restrictions would not have affected the resilience or security of the products we supply to the UK.
"Regrettably, our future in the UK has become politicised – this is about US trade policy and not security."