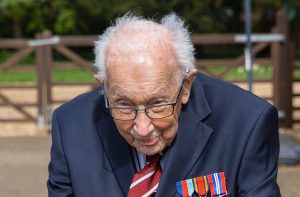 Captain Tom Moore is to be knighted by the Queen on Friday at Windsor Castle.
Tom raised more than £33 million for the NHS by walking 100 laps of his garden.
The WWII veteran completed the charity task only days before his 100th birthday.
His selfless actions caught the imagination of the nation during the coronavirus pandemic and lockdown.
Prime Minister Boris Johnson nominated Tom for his knighthood.
Despite investitures being on hold, Buckingham Palace has made a special date for Tom.
Also, the Queen rarely does the knighting herself.
She will bestow the honour using a sword which belonged to her father, George VI.
A Buckingham Palace spokeswoman said:
"On occasion, the Queen invests individuals privately during audiences.
"Captain Sir Tom Moore's knighthood was, exceptionally, announced individually by the Prime Minister, outside of the usual announcements of the Queen's Birthday Honours and the New Year Honours.
"Captain Sir Tom and his family were hopeful the investiture could take place in a timely fashion and we are pleased it has been possible on this occasion."
The open-air ceremony will take place in private at Windsor Castle.
The Queen has been staying at Windsor with Prince Philip, 99, since lockdown.
Tom quipped at the time the knighthood was announced:
"I hope she's not very heavy handed with the sword."
Tom has also been made an honorary colonel and an honorary member of the England cricket team.