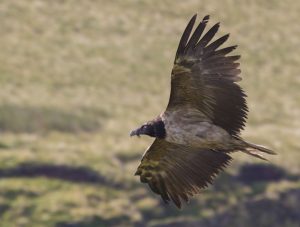 Credit: William Bowell/justwildimages.blogspot.com
A bearded vulture has been spotted in Britain for only the second time.
The majestic raptor – one of the world's largest birds of prey – has been seen soaring over the Peak District.
Its sighting has sent hundreds of "twitchers" – birds watchers – to Howden Moor, near Sheffield.
The bearded vulture lives solely on a diet of carcass bones.
It can eat whole bones which are then digested in powerful stomach acids.
It plays an important role in clearing carcasses.
"Twitcher" William Bowell said:
"It's a truly magnificent sight, to see the largest bird of prey in Yorkshire.
"Hundreds of birders from all over the country have made the journey."
After driving to the area from his south Lincolnshire home, Mr Bowell walked for two hours to reach the remote location.
He said: "I missed it by about 20 minutes.
"I went back the next morning after leaving home at half three in the morning.
"When we got there after missing it on Saturday it was elation.
"They were sublime views, I just never expected it."
Mr Bowell said he would not try to photograph the bird again while it stays in the area.
He said: "I just don't think I'll be able to repeat it, so unless it roosts somewhere a bit more accessible… I'll wait for the next rare bird to appear."
Experts believe the bearded vulture is two years old and was "wild-born" from a population reintroduced to the Alps or Pyrenees.
Its journey to the Peak District has been tracked by ornithologists.
It was first spotted in Belgium before crossing to Britain.
The next sighting was in the West Midlands before it moved to the Peak District.
"These birds wander long distances but usually return to places of origin," the Derbyshire Wildlife Trust said.