Alleged Epstein sex victim looks to claim £20 million from Ghislaine Maxwell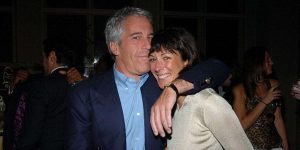 Ghislaine Maxwell is being sued for £20 million by a victim of sex trafficker Jeffrey Epstein, it is claimed.
The woman has started legal proceedings in America.
It's thought the action could pave the way for others to follow.
A legal source told the Mirror:
"We expect an avalanche of cases to come forward now.
"Many more women who were abused by Epstein are coming forward and many more are on the verge of having the courage to do so.
"These women allege Maxwell was Epstein's chief ­facilitator and believe she should bear responsibility for her actions."
Maxwell, 58, was arrested at her "Tuckedaway" home in New Hampshire.
She is being held in a maximum-security prison awaiting a hearing next week.
Maxwell, daughter of the disgraced newspaper publisher Robert Maxwell, faces six charges.
They include trafficking minors for sex and perjury.
She faces up to 35 years in prison if convicted.
The woman at the centre of the legal claim is said not to be part of the criminal case.
One girl "recruited" by Epstein – Virginia Giuffre – claims she had sex with Prince Andrew when she was aged 17.
Andrew – a former lover of Ghislaine Maxwell – denies the allegation.