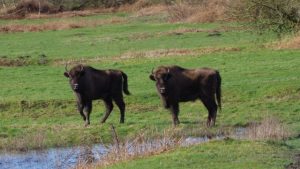 Credit: Amanda Fegan/Kent Wildlife Trust
Wild bison are to be re-introduced to Britain after they disappeared more than 15,000 years ago.
The mammals were declared extinct in Europe in 1919 – a year after the end of WWI.
Over the last decades some countries – including Poland and the Netherlands – have re-established the mighty beast.
The European Bison is the closest living relative to the Steppe Bison that once roamed Britain.
It played a major part in naturally managing the habitat.
Now, the Wildlife Trust hopes this can work again.
Four European Bison have been enclosed on a 1,200 site away from the public glare.
It is hoped the £1 million project at Blean Woods near Canterbury, Kent, will show the benefits bison have on the habitat.
The bison will "engineer" the landscape by felling trees.
This creates areas of space and light and provides deadwood to help other animals, insects and plants.
Eventually, the bison will be allowed to roam without being fenced in.
Paul Hadaway, director of Conservation at Kent Wildlife Trust said:
"The project will prove that a wilder, nature-based solution is the right one to tackling the climate and nature crisis we now face.
"Using missing keystone species like bison to restore natural processes to habitats is the key to creating bio-abundance in our landscape."
Craig Bennett, the recently appointed CEO of the Wildlife Trusts, had advocated for all animals made extinct in Britain should be brought back – including the bear.
Paul Whitfield, director general of Wildwood Trust said:
"The partners in this project have long dreamt of restoring the true wild woodlands that have been missing from England for too long.
"This will allow people to experience nature in a way they haven't before, connecting them back to the natural world around them in a deeper and more meaningful way."