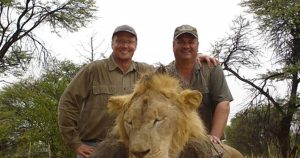 The Government is going ahead with a ban on "canned hunting" and the importing of animal trophies.
In the Conservative election manifesto at the 2019 General Election Boris Johnson called for an end to the "barbaric practice".
And, his partner Carrie Symonds has spoken strongly for a ban.
There has been some concern about the pace of the legislation and its focus.
However, The Telegraph reports a source close to the Prime Minister.
The source said:
"It cannot be right that endangered and defenceless animals should be shot for pleasure and their mortal remains stuffed on the mantel pieces of this country.
"The destruction of habitats is one of the great disasters of modern times.
"We have lost 500 species in the last century alone."
The Campaign to Ban Trophy Hunting (CBTH) says in the last ten years more than 2,500 trophies from protected species have been imported into the UK.
Among the 74 rare animal parts legally imported into the UK in 2018 were elephant ears and hippopotamus teeth.
And, British hunters have been accused of supporting the South African lion breeding industry, which supplies the animals to be killed by trophy hunters.
It's five years since American dentist Walter Palmer shot dead Cecil, Zimbabwe's most famous lion.
Multi-millionaire Palmer said he thought his hunt was legal and the Cecil was protected.
It's believed he took down Cecil with a bow and arrow.
The wounded animal was found days later and shot dead with a rifle.
Cecil was then skinned and beheaded, according to the Zimbabwe Conservation Task Force (ZCTF), a local charity.
The shooting brought world-wide opprobrium on Palmer.