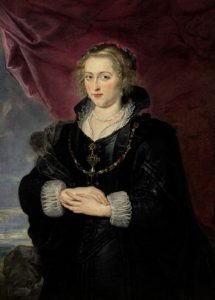 An oil painting which sold for £78,000 three years ago is expected to go for £3.5 million at auction.
During the selling dates, the picture has undergone a major clean-up – and it's been revealed as work by the old master Paul Rubens.
The Portrait Of A Lady is being sold at Sotheby's at the end of July.
It's the first major auction in London since lockdown.
The picture was first shown at the Royal Academy in the capital in 1902.
It was credited as the work Rubens, the 17th Century Flemish artist.
It had been bought at auction in 1878 and remained in the same family for 139 years.
However, when it next came up for sale the portrait was listed as from the "workshop of Rubens" – suggesting it had been painted by one of his assistants.
It went for £78,000.
But the buyer believed his purchase was the real deal and had the picture cleaned to reveal its true worth.
An infra-red camera also showed how Rubens made changes while painting.
After the restoration the picture was shown to Sotheby's who confirmed it was a Rubens.
Andrew Fletcher, Sotheby's head of its Old Masters department, said:
"It's one of those moments that you have a couple of times a year when you walk in, and you just have this wonderful instant reaction of glee.
"There is one enormous change in the sky where the red curtain descended… Rubens obviously wasn't happy with that so pushed it back up and included more sky.
"She's got such a wonderful presence.
"I love the way she's looking out slightly out of the corner of her eye with a little bit of a grin.
"There's a real sense of character to her face even though she's actually posed in quite a formal way."