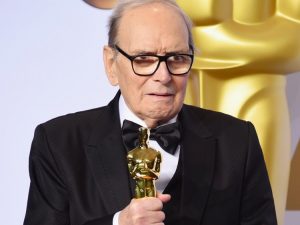 Oscar-winning film score composer Ennio Morricone has died. He was aged 91.
Morricone came to world attention after composing the music for Sergio Leone's stable of "Spaghetti Westerns".
His first score was for the 1964 film "A Fistful Of Dollars".
The Italian news agency Ansa reported that the composer had suffered a fall and checked into a clinic in Rome.
The death was later confirmed by his lawyer.
Morricone was born in Rome.
He composed the music for more than 500 films and television series.
His catalogue of work included "Days of Heaven," "Bugsy," "Cinema Paradiso," "The Untouchables," "La Cage aux Folles" and "Battle of Algiers."
Morricone's score to the 1986 film "The Mission" was voted best film score of all time in a 2012 Variety poll.
After six nominations he eventually won an Oscar for Quentin Tarantino's "The Hateful Eight."
He'd been awarded an honorary one in 2007.