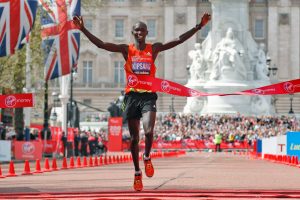 Kenyan marathon runner Wilson Kipsang – a former world record holder – has been banned for four years for anti-doping violations.
Kipsang, a twice winner of the London Marathon, missed four "whereabouts appointments" between April 2018 and May 2019.
Three failures automatically lead to a ban.
Kipsang, 38, said he missed one test in May 2019 because of a road accident and sent a photograph to support his claim.
However, the picture was from a crash in August 2019.
The World Athletics Disciplinary Tribunal said it had banned Kipsang for "whereabouts failures and tampering by providing false evidence and witness testimony".
The Athletics Integrity Unit statement said:
"Evidence demonstrates overwhelmingly that the athlete was engaged in tampering or attempted tampering in breach of the IAAF rules".