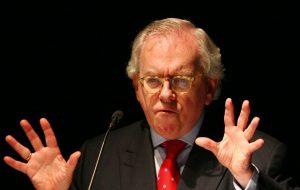 Cambridge University has been urged to "cut all ties" with its controversial alumni historian David Starkey.
The call came after the 75-year-old made racist comments during an online interview with right wing commentator Darren Grimes for the YouTube channel Reasoned UK.
During the interview, Starkey said: "Slavery was not genocide otherwise there wouldn't be so many damn blacks in Africa or in Britain, would there?
"An awful lot of them survived and again there's no point in arguing against globalisation or western civilisation. They are all products of it, we are all products of it.
"The honest teaching of the British Empire is to say quite simply, it is the first key stage of our globalisation.
"It is probably the most important moment in human history, and it is still with us."
His remark prompted the former chancellor Sajid Javid to tweet:
"We are the most successful multi-racial democracy in the world and have much to be proud of
"David Starkey's racist comments ('so many damn blacks') are a reminder of the appalling views that still exist."
And, fellow historian and Cambridge professor Nicholas Guyatt urged the university to "cut all ties" with Dr Starkey.
Prof Guyatt tweeted:
"I can't speak for my employer but as someone who teaches history at Cambridge I'm ashamed of our connections with David Starkey and urge both the University and Fitzwilliam College to cut all ties with him.
Dr Starkey – well known for his controversial comments – was made an Honorary Fellow in 2006.
Fitzwilliam College quickly denounced his remarks and added its governing body would "consider" his fellowship.
The college said in a statement: "We support and promote freedom of speech in our academic community, but we have zero tolerance of racism.
"Dr David Starkey's recent comments on slavery are indefensible.
"Fitzwilliam was founded upon values of fairness and mutual respect and we are proud of the College's inclusive and diverse membership.
"The matter of Dr Starkey's Honorary Fellowship will be considered by the Governing Body at its meeting next Wednesday."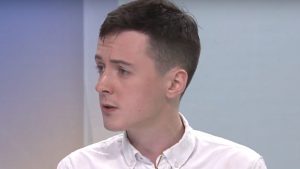 Darren Grimes
Interviewer Grimes has been criticised for not challenging Starkey – just nodding along as he continued to speak.
Grimes said later: "It goes without saying that Reasoned UK does not support or condone Dr David Starkey's words.
"I am very new to being the interviewer rather than the interviewee and I should have robustly questioned Dr Starkey about his comments.
"However, whether it's on the BBC, ITV, Sky News or on YouTube, no interviewer is responsible for the views expressed by their guests."
"Slavery was not genocide, otherwise there wouldn't be so many damn blacks in Africa or in Britain would there?"

David Starkey, one of the most widely known popular 'historians' in the UK who has been a regular fixture on TV and other media for decades. pic.twitter.com/gVeodJakTW

— Louis Allday (@Louis_Allday) July 2, 2020