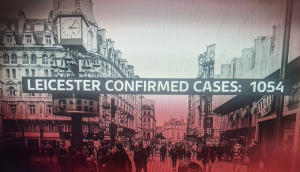 Credit: ITV
ITV has apologised after using a picture of Leicester Square in London to illustrate a story in the East Midlands city.
The wrong image was used in News At Ten as Leicester was put into a local lockdown.
Coronavirus rates in the city have spiked, forcing the Government to re-impose restrictions.
The picture on screen was the M&M World store in London's Leicester Square.
ITV spotted the error – but not until social media had made fun of the mistake.
Twitter user Paul Corrigan joked:
"Not to worry. A government advisor once mistook Durham for Westminster."
ITV said the blunder was down to "human error".
The broadcaster posted:
"Last night in the ITV News at Ten, an image of Leicester Square in London was mistakenly used on screen instead of an image from Leicester city centre.
"ITV News takes accuracy very seriously and we therefore apologise for this human error."