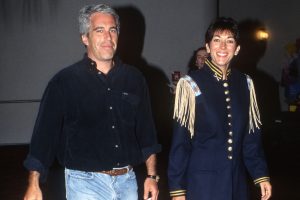 Jeffrey Epstein and Ghislaine Maxwell
Ghislaine Maxwell, the former girlfriend of sex trafficker Jeffrey Epstein, has been arrested in America.
Ms Ghislaine was picked up in New Hampshire by the FBI.
She faces six charges, including enticing a minor to travel to take part in illegal sex acts and perjury.
The socialite daughter of the late newspaper owner Robert Maxwell denies all knowledge of Epstein's sexual activity with young girls.
He died in prison last August while awaiting trial on sex charges.
Ms Maxwell is said to have "assisted, facilitated, and contributed to Jeffrey Epstein's abuse minor girls by, among other things, helping Epstein to recruit, groom and ultimately abuse victims known to Maxwell and Epstein to be under the age of 18".
She is also accused of conspiracy to entice minors to travel to engage in illegal sex acts; enticing a minor to travel to engage in illegal sex acts; conspiracy to transport minors with intent to engage in criminal sexual activity; and transporting a minor with intent to engage in criminal sexual activity.
There are also two counts of perjury.
The charge sheet says she "repeatedly lied when questioned about her conduct, including in relation to some of the minor victims".
Between 1994 and 1997 Ms Maxwell was Epstein's lover.
The formal accusation alleges that during that time she groomed multiple minor girls to engage in sex acts with Epstein.
She tried to befriend them by asking about their lives and families and then she and Epstein built the friendships by taking minor victims to the cinema or shopping.
Prince Andrew has also been asked to give a statement to lawyers acting for a number of alleged teenage victims.