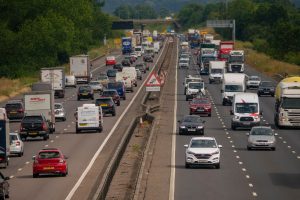 More than ten million drivers will hit the roads this weekend as lockdown restrictions are lifted.
An RAC survey shows nearly a third of motorists will be out and about.
The study of 1,400 UK drivers found 31 percent would be behind the wheel for an overnight trip.
A further 19 percent will go the homes of friends or relatives at the weekend.
And, six percent are off camping.
The RAC urged motorists to check vehicles before setting off.
Spokesman Rod Dennis said:
"These figures suggest that after 15 weeks of lockdown, a large proportion of drivers in England are desperate to reconnect with friends, family and indeed nature by staying overnight, be that in a house or on a camping or caravan site.
"The likely increase in journeys being taken by car next weekend follows a clear increase in traffic on the roads in recent weeks, with our own analysis showing that the number of motorists breaking down is now near enough back to what we would expect for late June.
"This could lead to some busy conditions on the roads, with the location of queues likely to be dependent on just how far people travel – motorways and major A-roads could end up taking the brunt of the traffic if people have longer distances to drive to see family and friends or to take a weekend break.
"While our research suggests weekend traffic could be the heaviest of the year so far, a breakdown has the potential to make matters even worse.
"Tyre condition and pressure – of cars, as well as trailers and caravans – should be top of the list of things to check before any trip, followed by oil and coolant level."