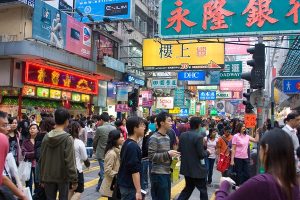 Britain will offer visas to more than 2.9 million Hong Kong residents.
The move comes after new tough security laws were imposed on the island's people by Beijing.
Under the new regulations anyone criticising the Chinese government faces ten years to a life sentence in prison.
The laws violate the Sino-British agreement made in 1984 when Hong Kong was handed back to the mainland.
Hong Kong residents with British National Overseas status – and their dependents – will be allowed to access five-year work or study visas.
The person can apply for settled status at the end of the period.
Foreign Secretary Dominic Raab said the new laws were a "flagrant assault on freedom of speech and freedom of protest".
He added that today was a "sad day".
Mr Raab said: "We [the UK Government] will live up to its responsibilities to the people of Hong Kong.
"It is precisely why we respect China as a leading member of the international community that we expect the Chinese government to meet its international obligations to live up to its international responsibilities."
At Prime Minister's Question's today Boris Johnson said:
"The enactment and imposition of this national security law constitutes a clear and serious breach of the Sino-British joint declaration.
"It violates Hong Kong's high degree of autonomy and is in direct conflict with Hong Kong's direct and basic law."