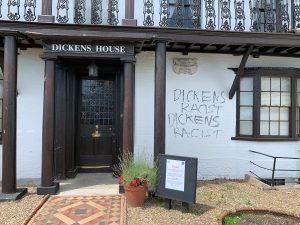 The Charles Dickens museum has been daubed with graffiti labelling the writer "racist".
The attack was openly carried out by Ian Driver – a former local councillor in nearby Broadstairs, Kent.
He targeted the museum and then posted the pictures to social media.
Mr Driver described Dickens as "an extreme racist".
The father of two said he did not mind being arrested because he believes he has a defence under equality legislation.
He said: "I am expecting a knock at the door tonight or tomorrow.
"I am not hiding from them; I know they have a job to do.
"I will help them in any way I can.
"I believe I have the right to do [the graffiti] and I will argue that in court."
In Oliver Twist, Dickens is accused of using anti-Semitic clichés of gangmaster Fagin.
He is referred to more than 250 times as "The Jew".
And, during a trip to North America in 1868, Dickens criticised the "melancholy absurdity" proposal to give African Americans the right to vote.
Dickens said, "their enfranchisement is a mere party trick to get votes."
A spokesman for Kent Police confirmed this weekend's incidents were being investigated.